Now buy Holtek E-writer pro programmer we send ESKT400 DIP
Universal Conversion socket together:$170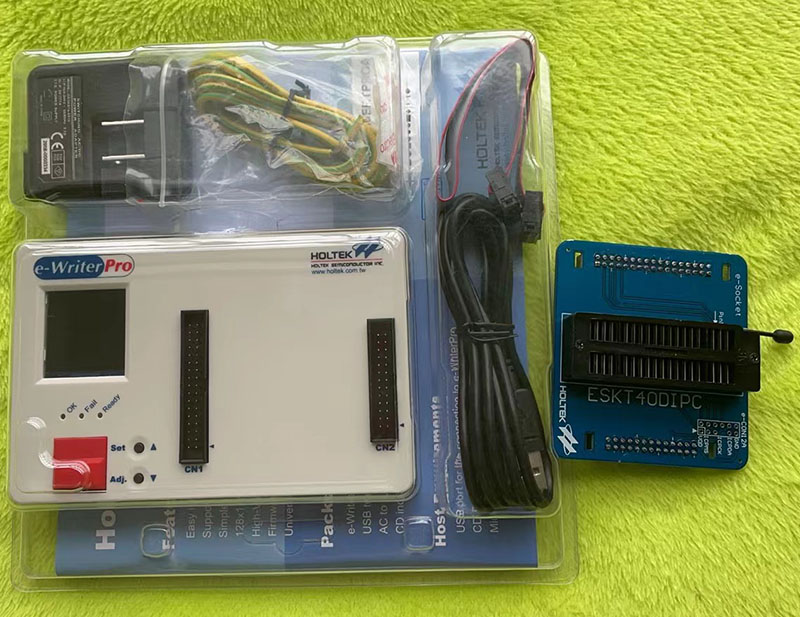 1. The writer/programmer and writer are imported from Taiwan, brand new original, original factory warranty, long-term warranty;
2, free shipping, all-day shipping, open all holidays;
3. The equipment sold by the company is authentic products, which can reduce the defect rate of the chip to a minimum. Please do not compare the price with the cheap one;
Holtek has introduced the latest universal writer e-Writer Pro with LCD.
e-Writer Pro programmer main features:
Supports programming of all Holtek microcontrollers, except 32-bit microcontrollers!
Burn faster
128′128LCD graphic panel, high volume buzzer prompt
Update firmware via computer / Internet
Provide universal programming base for each packaged microcontroller
High-reliability button, the usage rate is more than 1,000,000 times
Support offline programming Support partial programming
Support serial number burning
Windows-based burning software
Provide (DOS) flash prompt command
e-Writer Pro competitive advantage:
Low price
More powerful, more competitive price, higher durability
ESD protection for all output pins
Enhanced power management
A power adapter with the detection function is provided, which is more powerful
Powerful LCD information display function
Support for multiple languages-Traditional Chinese, Simplified Chinese and English are currently available
USB port power supply, no external power required
e-WriterPro can provide Holtek's the full range of OTP and Flash MCU engineering trial burns during the development phase, and it is also very suitable for mass production of small to medium volume MCUs.
※ Each new e-WriterPro needs to be activated before it can be used for the first time. Once activated, it can be used on any computer without activating it again!
"Activate the writer" specific steps are as follows:
1. Install Hetai programming software HOPE3000 and open it. Connect the writer e-WriterPro to the computer USB interface;
2. Open the "Tools" menu and select "Activate the writer". A pop-up dialogue box prompts you to enter the registration code;
3. Click the "Get Registration Code" button, enter your email address and other personal information in the pop-up dialogue box, click "Register", and wait for a moment to open the mailbox to view the registration code email from Holtek;
4. Fill in the registration code in the email into the dialogue box in step 2 and click the "Activate" button. The activation is successful!
5. Reconnect the writer to the computer and start programming!