Data recovery tool refers to the use of technical means through the tool to save the lost electronic data on the desktop hard drive, notebook hard drive, server hard drive, storage tape library, mobile hard drive, U disk, digital memory card, mobile phone memory card, etc. Tools for rescue and recovery.
ShenZhen OROD company provides global customers with low price, high quality, hard drive disk, mobile phone, Flash / CF / SD / SSD data recovery tool software products including: PC3000 UDMA, MRT, DFL, hard disk head replacement, hard disk replacement, hard disk motor replacement tools . Previous various hard disk data recovery adapter adapter, terminal line, ROM chip reader programmer tool.
Principles of data recovery:
Many people do not know that the data lost by hard disk operations such as deletion and formatting can be recovered, thinking that the data will no longer exist after deletion and formatting. In fact, after the above simple operations, the data still exists in the hard disk, and people who understand the principles of data recovery can retrieve the disappeared data in just a few clicks. Don't think it's unbelievable. After understanding the data in hard disks, USB drives, floppy disks and other media After the storage principle, you can also be a magician yourself.
To improve the success rate of data recovery, you need to first understand the principles of data recovery, and then select the appropriate data recovery device according to the cause of the hard disk failure. For the data loss caused by the logical layer failure and some physical layer failures of the hard disk, the data does not really disappear from the disk, but the system records the data storage location as blank in the hard disk file list, waiting for the next time to write data, As long as there is no write operation to this part of the area, the data will remain in the original location. In addition, data is not deleted due to partition loss, hard disk formatting, etc. Partition information can be retrieved through data recovery.
For most physical layer failures, bad track layer failures and firmware layer failures of hard disks, the principle of data recovery is different. Most of the physical layer faults of the hard disk need to be opened to replace the damaged corresponding accessories, and then the hard disk data can be extracted after repairing the hard disk; for the bad layer layer failure, the hard disk bad recovery area can be skipped through the instructions of the hard disk data recovery tool to obtain most of the hard disk data; For firmware layer failure, data can be recovered by writing back firmware or virtual firmware area.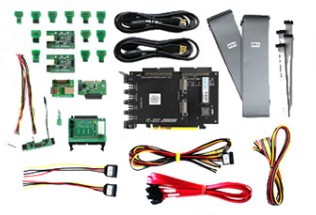 Data recovery software:
There are many common data recovery software, among which Winhex, MiniTool data recovery tool, FinalData, EasyRecovery, R-STUDIO, recover my file, DiskGenius, Rcover My Photos, Easy Data Recovery Wizard, Xunlong Data Recovery are frequently used. Software, An Yi data recovery software, etc., Baidu type "data recovery software" can find a lot of similar tools, these can mainly deal with data loss caused by logical failures and damage to data that is not serious.
Data recovery hardware
Professional-level data recovery tools to deal with data loss caused by physical failures include Russian ACE's PC3000-UDMA (with DataExtractor), which mainly handles physical failures of branded hard drives, and PC3000-FLASH, which mainly deals with physical failures of various media stored in chips, such as USB flash drives. , Various types of memory cards, solid state drives, etc. PC3000-SCSI mainly deals with physical failures of SCSI hard disks. Data recovery tools include: DC-body computer forensics recovery professional equipment, SD II 9000 server forensics professional equipment, SAS/SCSI server professional equipment, Flash flash data recovery master enterprise professional equipment, Data Compass intelligent data compass professional equipment, Data Copy King Hard disk copy and erase integrated professional equipment. These are professional tools equipped by professional data recovery companies and major enterprises, and have strong data recovery technology and strength.
The DC forensic computer forensics recovery professional equipment is the most advanced global fourth-generation professional data recovery tool Data Compass. As the world's first fully functional data recovery integrated device, the Data Compass equipped with a USB interface is a highly intelligent The professional data recovery equipment is powerful in terms of mobility, portability and functionality. The professional equipment for SD II 9000 server forensics is a mobile design, a professional level one control mode, supports all brands of SAS/SCSI hard drives, supports all system formats and various array types/database types, and also supports files in various formats /Video format file. The SAS/SCSI data erasing machine is the pinnacle of SAS/SCSI storage media data erasing and destroying equipment. The design theoretical speed is 32G/min. It is the best in the world and is compatible with all brands of SAS/SCSI hard drives. It fully supports IBM, HP, DELL, SUN, Lenovo, Inspur, ASUS, Sugon, Great Wall, Tsinghua Tongfang, Founder, Tianao, Acer, AblestNet NE and other brand servers on the market, support all brand SAS/SCSI hard drives on the market, including Seagate, Hitachi, Maxtor, Fujitsu, IBM, HP, etc., windows friendly interface, integrated industrial control keyboard design, simple operation without training. The FLASH flash data recovery master device is a professional FLASH data recovery device that specifically extracts data from FLASH storage media such as U disks, CF cards, memory sticks, voice recorders, etc. At the same time, it is also a large number of advanced FLASH original industrial grade The flash memory technology and advanced algorithm set as one FLASH flash storage carrier data recovery final equipment.
Intelligent Data Compass professional equipment is a highly intelligent and efficient professional equipment specifically for hard disk logical layer, firmware layer, physical layer fault data recovery and data extraction; it will provide information security data protection in many fields of emergency recovery Patented technology, the most cutting-edge technology and a large amount of experience and practical results in the past ten years are perfectly integrated into it, and can provide a complete solution to common and difficult failures in data recovery. 6.Hard disk copying machine-DATA COPY KING is the world's most advanced full-field hard disk copying product.It combines high-speed hard disk copying, data high-speed copying, secure erasure and automatic fault detection.The cost-effective integrated equipment, the hard disk copying machine uses the efficiency source The latest technology in 2010, designed for TB-level large-capacity hard drives, supports a maximum of 131072TB. Hard disk copy speed, erasing speed, and data acquisition capabilities for defective sectors all exceed similar hard disk copy products on the market.
These data recovery tools can handle all kinds of more difficult recovery data, and can be used in government enterprises and institutions, military industrial secret systems, procuratorial systems, tax systems, training school laboratories, security systems, bank financial systems.
Species
Hardware failure data recovery
Hardware failures account for more than half of all data accidental failures. Often there are circuit failures caused by lightning strikes, high voltage, high temperature, etc., mechanical failures caused by high temperature, vibration collision, etc., physical bad track sector failures caused by high temperature, vibration collision, storage media aging, Of course, there is accidental loss of damaged firmware BIOS information.
The data recovery of hardware failure is of course first diagnosed, treated according to the symptom, first repair the corresponding hardware failure, then according to repair other soft failures, and finally restore the data successfully.
Circuit failure requires us to have a circuit foundation, and we need to have a deeper understanding of the detailed working process of the hard disk. Mechanical head failures require workbenches or workshops with a level of 100 or higher to diagnose and repair. In addition, some software and hardware maintenance tools are needed to repair the firmware area and other fault types.
RAID data recovery
The storage principle of the disk array is not explained here. Please refer to the array knowledge article of this site. The recovery process is to first eliminate the hardware and soft faults, and then analyze the array sequence, block size and other parameters, and use the array card or array software to reorganize. Restore data as usual.